* banner picture aboveshows outline of permissible heights under the proposed development plan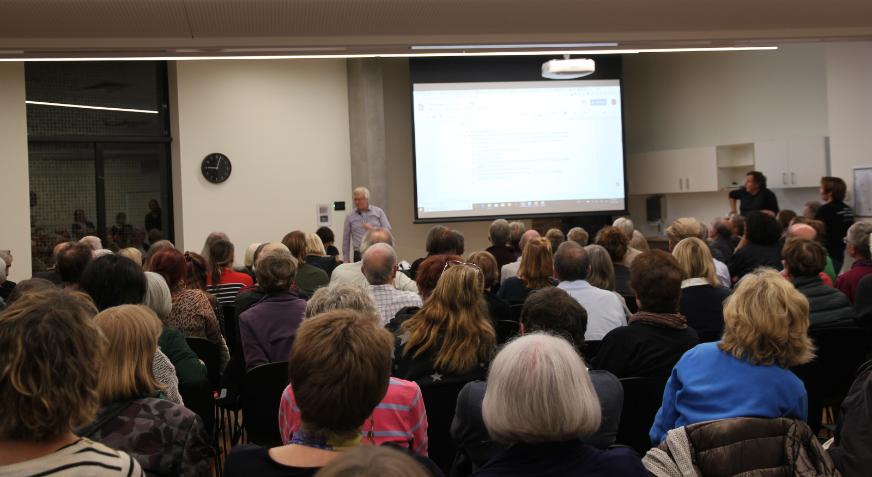 What is Gasworks ?
The former Fitzroy Gasworks is the largest development site in Fitzroy North/Clifton Hill. Covering an entire inner-city block, it is bordered by Queens Parade, Smith St, Alexander Parade and George Street.
At 4 hectares it presents the last opportunity to introduce major new public assets to our community.
How is the Gasworks important ?
It is quite rare that Government (state or local) has the opportunity to develop residential, commercial and public land in an area where it will be highly valued and would leave an enduring legacy. The State Government under the influence of the Yarra City Council has such an opportunity.
An opportunity to lead by example by demonstrating how socially and ethically minded developers should behave.
Instead the level of standard being demonstrated and being required is very low and the ambitions for community outcomes (such as housing affordability, environmental sustainability, local amenity, green space, etc) are not compulsory. What is rather being created is a village of buildings aimed at maximising economic returns, as any private sector developer would.
Creating a village of residences with the highest level of environmental standards, with rooftop gardens and green walls, sympathetic integration with the surrounding neighbourhoods, inviting open spaces to be utilised by all the community, a preference for financially, environmentally and socially sustainable housing similar to the Nightingale model would create such an iconic place.
An opportunity exists for Government to exemplify the outcomes it wants to achieve and provide a model for future developments. The Yarra City Council should push for such ambitions in this unique circumstance.
Why did PFN call the community meeting ?
The Advisory Committee Meeting in April was the last opportunity in the official process the community can have a say.
Residents written submissions Closed on 6th April.The plan documents were not posted, not available before 26th February.
So after 12 years of lead up work, the community has was given a bit over 6 weeks to read, understand, and respond to hundreds of pages of technical documentation.
The lead up Community consultation by Development Victoria had been a complete sham. Development Victoria had the 10 storey street wall backed by 4 x 14 storey apartment towers locked in since November 2017.
How do we know this ?
The complete report from the consultants hired to "manage" community engagement was accidentally included in the published information pack. This was covered in this Age Article by Clay Lucas. This is a link to the full consultant report.
The Independent Advisory Committee, the GLSAC, had a Public Hearing on the Gasworks site in April.
The Advisory Committee is independant of Development Victoria and will report to the Minister of Planning in confidence on what would "put the land to its highest and best use - and that is not in terms of money".
The Minister makes his decision on how much of the land to retain for public use, how much to sell to developers, and what planning controls will apply - the DPO (Development Plan Overlay).
From that point on, if the Development Victoria proposal is adopted, the council and residents will have no right to know what will be built, no right to know when it will be built, and no right to object to any part of it.
Why exclude the council and residents from objecting ?
Developers and investors want planning certainty and they will pay a premium for any land, that has no third party rights of appeal, and does not need council approval.
Developers can do whatever they want with the land, provided it meets the rules in the DPO.
The greater the flexibility with planning controls, the higher the price that developers and investors will pay for the land.
Alternatively a DPO with mandated affordable housing, child care centre, open space, sustainability, nieghbourhood character, etc, does not stop Development Victoria from delivering them, but is less valuable to developers.
What have Protect Fitzroy North done so far ?
Promoting awareness and visibility of the full picture of what is being proposed for Gasworks, on this page, by posting to the mailing list, on social media via Protect Fitzroy North facebook and twitter.
Gathering feedback at the communty meeting.
Put a strong community case at the Advisory Committee Hearing.
The commitment from across our community to make written submissions, and appear at VCAT, was acknowledged by VCAT as a very strong message from the local community on 26-56 Queens Parade.
It is easy for a lawyer to argue the community is fine with a 10 storey street wall, rising to 14 storeys, when there are only a couple of resident submissions, and no-one at the hearing to disagree.
It is much harder in the face of an overwhelming majority of resident submissions highlighting flaws in the proposal. A strong community message, provided a clear united voice to the committee.
Link to the Gasworks Documentation Downloads Page
Link to the Advisory Committee Hearing Page
We were told, so must take at face value*, the major themes that came through in the community consultation were :
open space - insufficient, particularly green space
height and density - excessive not in keeping with neighbourhood character.
traffic and parking - impact not properly asseseed or addressed.
amenity - extreme density, blocks sun-light and does not allow a "village feel"
public housing - public housing should be included in a housing development on public land.
affordable housing - no mandated affordable housing so including affordable housing is at the developer's discretion.
design excellence - development on public land should be an example of excellence, in sustainability, livability, openspace, pedestrian and cycle safety.
* - In the Consultation Report, over 66% responded "Negative" or "Very Negative" to the proposed Gasworks Master Plan. The Executive Summary of the report says the plan was "received neutrally" by the community and other stakeholders.
Questions the Advisory Committe will be considering -
Does a 10 storey street wall with no setbacks on Smith Street, George Street and Alexander Parade reflect neighbourhood character ?
Only the indoor courts and secondary school are guaranteed in the current plans. Should the child care centre be guaranteed ?
Should the council and residents lose the right to object to a building on Gasworks ?
Should any public land be retained for other future community needs - like a primary school, public housing ?
How are all the residents, school children, and workers going to get to and from this site during peak hours ?
Even if it gets more cash. How is it a good idea to allow developers to ignore the Better Apartment minimum standard ?
Write a Letter to Richard Wynne
Even though Mr Richard Wynne is the Planning Minister, he is still our local member so it is perfectly reasonable to politely ask him to take into account, what you, as one of his constituents, would support for this unique site. His email address is richard.wynne@parliament.vic.gov.au
Stay tuned
Keep an eye out for further updates from the council, Protect Fitzroy North and other community groups.
You can follow the discussion on the Protect Fitzroy North facebook group. PFN are considering a number of approaches to more publicly raise awarenes and highlight the community opinion on Gasworks.
You can request to be added to the PFN mailing list or give us feedback via email on protectfitzroynorth@gmail.com
PFN Points for the Advisory Committee - Draft
Carparking
| Gasworks | 26-56 Queens Parade |
| --- | --- |
| 1,208 dwellings | 266 dwellings |
| 4,300 sqm retail, shops & small businesses | 496 sqm retail, shops & small businesses |
| Secondary School, Indoor Sports Stadium, Childcare | |
| 769 car spaces | 340 car spaces |
| less than one space per apartment - no parking for businesses or visitors - less than 40% of the statutory reequirememt. | more spaces than appartments, and is still less than the statutory requirment |
Massive shortfall for a site where the surrounding on-street parking is already limited and often full
Where will the teaching staff park?
How will visitor parking be dealt with on major tournament days for the sports courts?
Where will their visitors to the retail and business park?
Morning and afternoon clearways further restrict on street parking
Impacts from spill over parking into abuttting residential areas
Height, Setbacks and Relationship to the Existing Neighbourhood
The City Of Yarra commissioned Hansen Partnership in 2016 to prepare a Built Form Review for the whole of Queens Parade
Key Recommendations for the St. Johns Precinct (areas abutting the Gas Works):-
Mixed residential, heritage buildings with renewal and infill potential at the Smith Street junction.

The varied pattern of subdivision to either side of Queens Parade as it rises to St John's Baptist Church will retain a consistent heritage character, with a discrete opportunity for moderate consolidated change at the Smith Street junction.

Redevelopment of this commercial precinct will be shaped by its relationship to the adjoining Former Gasworks Site and an effective transition to south and east residential land, while retaining the primacy of the St John's Church landmark.
Summary of preferred outcome in UDF
Anticipated change: moderate and minimal (in heritage residential areas)
Preferred typology: midrise infill (maximum building height: 5 storeys, or 16m) on Commercial zoned land.
This is the preferred built form that is to be expected to be constructed in the future.
A key aim is to reinforce the heritage values of the precinct, including the traditional street wall which is of once to to storeys.
Upper level front setbacks should be a mandatory 8 metres from the facade line.
Gasworks Controls
No setbacks from street frontages proposed for upper levels
6 storey vertical walls proposed to Smith Street and Queens Parade before setbacks are required before reaching 10 storeys
10 storey vertical walls proposed to Smith Street and Queens Parade before setbacks are required before reaching 14 storeys
Completely out of context with the neighbourhood character of the adjacent streets
Over bearing and harsh experience at the footpath level
No precedent for this type of built form in this low rise area
Gross overdevelopment
In the photographs of similar projects below where the vertical walls are 5 storeys to Rathdowne Street North Carlton and 9 storeys to Lygon Street East Brunswick. These are the type of buildings, if not higher, than we can expect if these planning controls are implemented.
The aim should be for the design and controls "To ensure new development does not diminish, or detract from the heritage values of the boulevard streetscape, the heritage street wall and the heritage trees along Queens Parade" Extract from the interim Planning Controls introduced by the Minister of Planning.
The same should apply to Smith Street.
Impact on Enjoyment of Edinburgh Gardens
The proposed developments with a maximum height of 14 storeys, up to 45 metres in height, will dominate the skyline from surrounding heritage areas and Edinburgh Gardens
Again the Minister of Planning created controls "To moderate the prominence of development above the street wall with respect to mid and long range panoramic and streetscape views and the Yarra skyline from the Edinburgh Gardens (HO213) and Newry Street (HO327- Fitzroy North Precinct)." The site at 26 - 56 Queens Parade has a mandatory height limit of 10 storeys, up to 31 metres in height .
The same should apply at the Gasworks Site.
The development anticipates workers, residents, vistors and shoppers at the new development will utilise the on-street parking between Edinburgh Gardens and Queens Parade.
Low Cost/Affordable Housing
The planning controls propose 5% of the dwellings to be low cost housing, but do not make it compulsory.
This is totally inadequate for a government owned and controlled site.
The City of Yarra is proposing at least 15%. This should be supported.
School
A "Vertical School is proposed. As a benchmark refer to the new Richmond High School (four storeys).
No design is shown for the outdoor play and recreation spaces.
Are the outdoor play and recreation areas being squeezed down to ensure that there is more developable land for residential development ?
Sports Courts
No design or details are shown.
No management plans are provided.
What controls are being put into place so that the local community will have input into traffic, parking, operational hours and and the design of the centre in the future to minimise impacts on the surrounding community.
Proposed Solutions
Rezone the land that is surplus to the State Governments needs, provide detailed planning controls including Design and Development Overlays and retain the City of Yarra as the Responsible Authority. Retain third party rights of appeal for residents and interested parties.
Treat the land for Mixed Use Development and the Sports Courts,as any normal parcel of land that is held in private or council ownership
Rezone the school site, provided plans and seek comment from the community, apply the appropriate controls and allow the Minister to be Responsible Authority for this important community facility
The community needs to stand up for its rights, work with the City Of Yarra for ongoing control of the site to be maintained by the City of Yarra and its ratepayers
Remind the Minister of Planning, that he is the local Member of Parliament, he needs to listen to his local community.