Update on Piedimonte's acquiring the rear laneway
Update posted by Councillor Misha Coleman on facebook :
Hi folks - an update as requested - and further detail below re the process for the proposed discontinuance at the rear of 37-45 Best Street.


November 2017
Council's Valuations Coordinator advised Applicants they will need to formally apply for discontinuance and purchase.
Application plus relevant information (copies of plans, titles, etc.) sent to Council's Lawyers who:
· Undertook some minor preliminary work (title search of road).
· Prepared cost agreement and sent to applicant – applicant must sign cost agreement prior to any work on discontinuance commencing.
· Cost agreement requires applicant to agree to pay all of the costs associated with the proposal together with the market value of the land (subject to Council approval).


December 2017
Cost agreement prepared for posting to applicant.
Work on the discontinuance will not commence until the Applicant signs costs agreement (this is the stage Council are presently at).
Process, if the cost agreement is signed, follows:
Council's lawyers:
Determine the status of the Road – is the road a road that Council can legally consider discontinuing?
Contact Public/Statutory Authorities to determine if they have any existing assets in the road that are required to be maintained or protected via the creation of an easement pursuant to section 207C of the Act.
Engage a Land Surveyor to undertake a site inspection and prepare appropriate plans – the surveyor can't be engaged until Authorities provide easement details to be included in survey plans.
Draft a Council report to commence statutory procedures to discontinue road. (First Council Report).
First Council Report will outline background of the discontinuance proposal.
Will provide details of the Applicant's proposal.
Will require Council to resolve for public notice requirements of discontinuance pursuant to section 223 of the Act.
It would expected that the first report to Council on this matter would be presented to Council in late March/early April 2017.


And in closing, I hope you and your families have a safe and restorative festive season.


Misha Coleman, Deputy Mayor, City of Yarra.
The development site is zoned entirely Commercial Zone One, and is all included in Heritage Overlay 327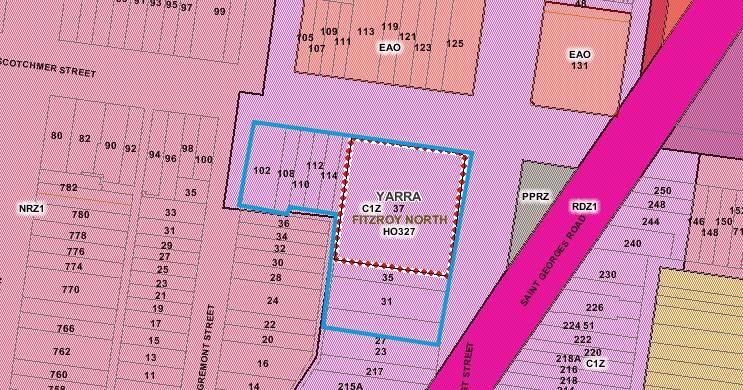 Some Planning Grounds for Objection
These are some suggested grounds for objection. This list only touches on each of the planning areas discussed below.
Neighbourhood Character
The proposed building will be 7 storeys high. This significant scale is not consistent with the neighbourhood
character objectives to complement the scale of the neighbouring buildings in the North Fitzroy Village, which are largely one and two story dwellings with retail.
The proposed built form above the existing heritage facades will dominate the streetscape.
The proposed design would set a precedent for VCAT on what is acceptable built form for future developments in Fitzroy North, especially adjacent corners, in direct conflict with current council policy.
Heritage
Only 3 metres of the existing facade of the warehouse in Scotchmer and Egremont Streets is to be retained. This is contrary to the objectives of the heritage overlay.
Demolition of the majority of current heritage buildings and replacement with construction of a new 7
storey building. This is counter to the stated preferred practice of adapting and re-using heritage buildings.
The heritage building at 33 Best Street is individually significant. Stripping an individually significant building back to just the facade does not meet the planning objectives for individually significant buildings in a heritage overlay.
Reduction in retail diversity
As proposed this development will result in a net loss of retail, including the Chemist. This is against council policy. Reducing retail diversity, reduces the number of reasons to visit a shopping strip. Reduced diversity means people are pushed to use their car for more shopping trips as the shop you walked to is no longer there.
Increase in traffic risks to Pedestrians and Cyclists on Scotchmer Street
It is proposed to have a new loading bay and car parking entrance (for both customers and residents) from Scotchmer Street.
There will be limited sightlines while exiting the proposed loading bay and carpark entrances. This will create dangerous traffic conditions for oncoming vehicles and bicycles, as well as safety concerns for pedestrians.
The proposed loading bay configuration requires a swept path for an articulated vehicle to a position facing ongoing traffic. This creates a traffic hazard.
Poor internal Amenity
The proposed materials (metal shutters, large sloping metal roof and cheap render finishes) are poor quality, which raises concerns about their longevity and maintenance requirements, and the materials are not consistent with the adjacent area.
There is little solar protection to the proposed new apartments, creating huge energy consumption concerns and excessive A/C loads.
A Net Community Benefit is not demonstrated
The mix of apartment does not encourage diversity, very few three or more bedroom apartments.
No affordable housing is offered.
Parking Provisions
Currently car parking is inadequate for current users of the supermarket,other retailers and residents.
The proposal assumes only 9 visitor parks are required for 89 apartments due to proximity to trams. This is half the statutory requirement. This puts more pressure on limited parking in the area.
There are already a substantial number of non-residents parking in the area; on 30 Nov. 2017, 17 of 36 cars in Egremont Street had no permit or visitor permits and there were no spare parks
Existing parking spaces on Scotchmer and Egremont Streets will be lost with the introduction of the new crossovers for the new laneway on Egremont Street and the expanded car parking and loading bay on Scotchmer Street.
Process for Piedimonte's to acquire the laneway
Not to be forgotten, the plans submitted to the council depend on the public laneway off Scotchmer Street, becoming private land owned by the Piedimonte family.
The authority to approve or deny an application to acquire the lane way lies with the council, not VCAT. Our ward councillor Misha Coleman's posted the following :
Dear Residents

As requested, please find below some general information with regards to the steps involved in the formal process to discontinue a road or laneway:

1. A determination as to whether the road in question is under Council's management or not;
2. Council then needs to contact the public authorities to determine whether they have existing assets in the road;
3. Council would instruct a surveyor to undertake a site inspection
4. Council staff would then draft a report to go to the full Council to seek a decision as to whether to commence the statutory procedures
5. if the elected Council members vote to commence statutory procedures, Yarra would then arrange for a public notice of the proposed road discontinuance to be published in the local newspapers;
6. Council will then consider any submissions received with regards to the proposed road discontinuance;
7. Staff would draft a report to Council as to whether the road should be discontinued;
8. a valuation of the road would need to be prepared and provided to the applicant;
9. if the elected Council members vote to discontinue the road, a notice would be published in the Victoria Government Gazette.

This all takes a minimum of 7-9 months usually. Hope this helps.