The Monster by Moonlight
622-642 Nicholson Street North Fitzroy
Developer is taking the City of Yarra to VCAT
Our Statements of Grounds - Due 23rd Jan 2019
Practice Day Hearing : 25th January 2019 at 10am
More information on the proposed redevelopment of Moonlight Receptions is in the original posting further down this page :-)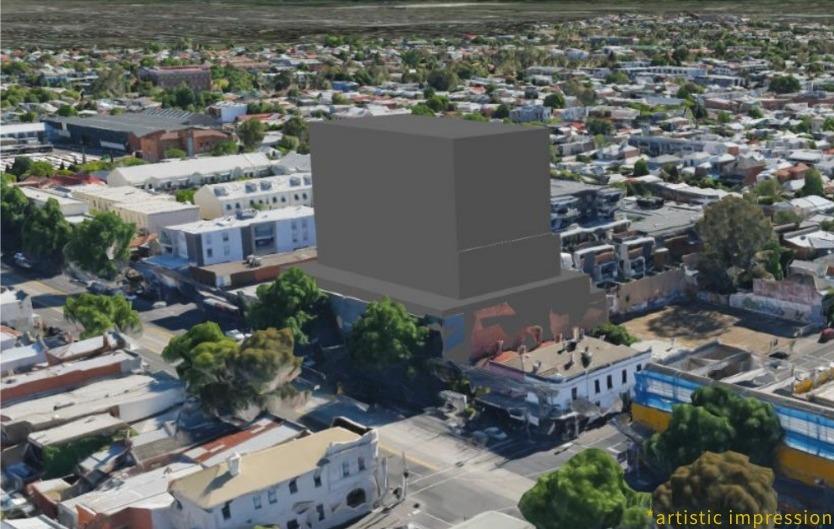 Amazing Effort to end a Mighty Year
Once again, just like Gasworks, this community has overwhelmingly stepped up to the plate, and contributed magnificently.
# 378 Submissions #
Received by the City of Yarra for Amendment C231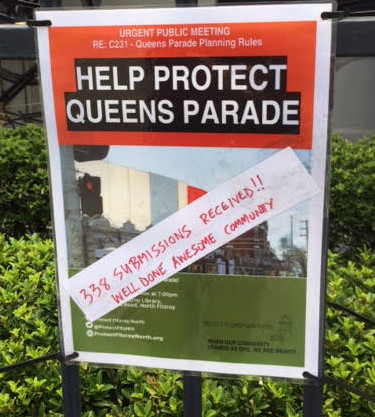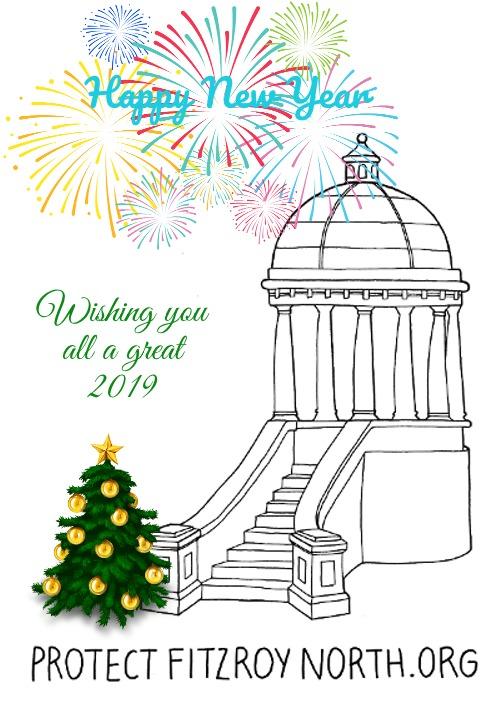 C231 Submissions are now Closed
Thanks so much to all who contributed
The depth of commitment to our neighbourhood is beautifully expressed in all the 378 submissions, available to be read at Bargoonga Nganjin - North Fitzroy Library.
Inspired by the turn-out of committed locals at the Queens Parade C231 Community Meeting, the National Trust and the Royal Victorian Historical Society also put in submissions.
Do yourself a favour and click on the Queens Parade Photo Tour. It was put together with love to play while people arrived at the meeting.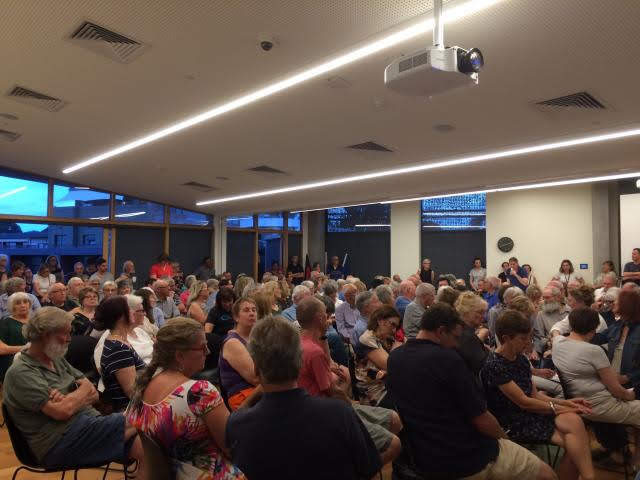 Many thanks to the 200+ hardy souls who attended the Community Meeting
The meeting went really well - other than the air-con deciding it was not going to work. We all learnt alot. Special Thank-you to councillors Amanda Stone, Jackie Fristacky, Steve Jolly and Danae Bosler for attending, answering questions and even giving us a hand to try and get the air-con going.
Thank-you also to Candidates Kathleen Maltzahn (Greens) and Hershel Landes (Independent) who attended and addressed the meeting.
Thank-you to Daniel Epstein, our planning barrister for 26-56 who also spoke. He confirmed many a planning barrister's overseas holidays and mortgages were funded by long winded discussions on what "preferred" means. He suggested getting as many of the controls as possible expressed as mandatory - to give certainty and avoid trips to VCAT.
Last but definitely not least, after a big week of preparation, a huge thank-you to all of you who magiced all the chairs away and the room back exactly how it was, when the meeting was over - just awesome :-)
We believe :
The heritage shopping strip of Queens Parade is of key social, cultural and economic significance to the residents of Clifton Hill, North Fitzroy and further afield. Its unique and irreplaceable heritage must remain the overwhelming impression on those who live, work and visit there.
Heights within the shopping strip must be in keeping with the existing heights and rooflines within the heritage precinct. The parapets and rooflines are significant to the heritage citation and should remain outlined against the sky.
Heights and massing on laneways must be managed so as to preserve and enhance the amenity of the spaces at the rear of heritage building - including in the laneways themselves.
Precinct laneways are narrow, unsuited for vehicular access. Avoid uses and inappropriate targeting of densities that would lead to such traffic in the first place. Walking and active transport should remain the priority in laneways.
Front and centre is the need to keep the centre as a functional bustling centre, so folks can continue to use walking or cycling to easily shop in Queens Parade.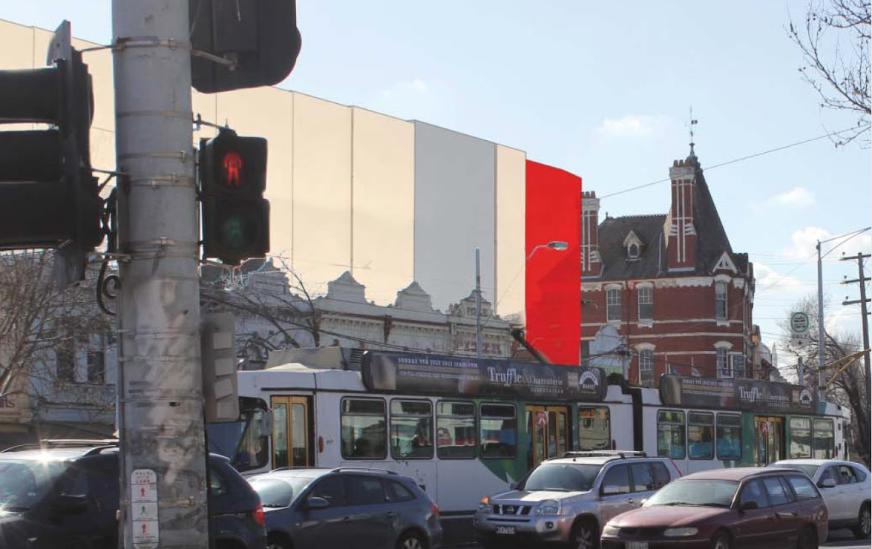 Latest News : Chalk up two more for the good guys :-)
Monster behind Mosskito
Refused by Council Officers
Yarra planning refused the proposal on fairly comprehensive shopping list of failures on most of the applicable sections of the planning scheme.
Heritage (too dominant), Planning (too high, too close), Urban Design (too big, bad fit), ESD (too hot, too dark) and Apartment Amenity (too pokey)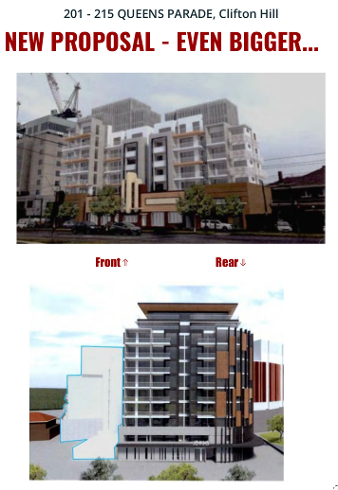 Alphington Residents
and Councillors
Victory at VCAT
Congratulations to the committed crew of the Alphington Fairfield Appropriate Development Association (AFADA), and the West Alphington Residents Association, who with the council leading the charge had a super win at VCAT.
The councillors agreed with the residents. A condition requiring this development should not exceed five storeys was imposed by the council and _upheld_ at VCAT.
VCAT agreed with the council and residents. While they thought Heidelberg road could cope with significant height, the proposal was clearly excessive for a site with low rise heritage neighbours, andquiet streets on two other sides.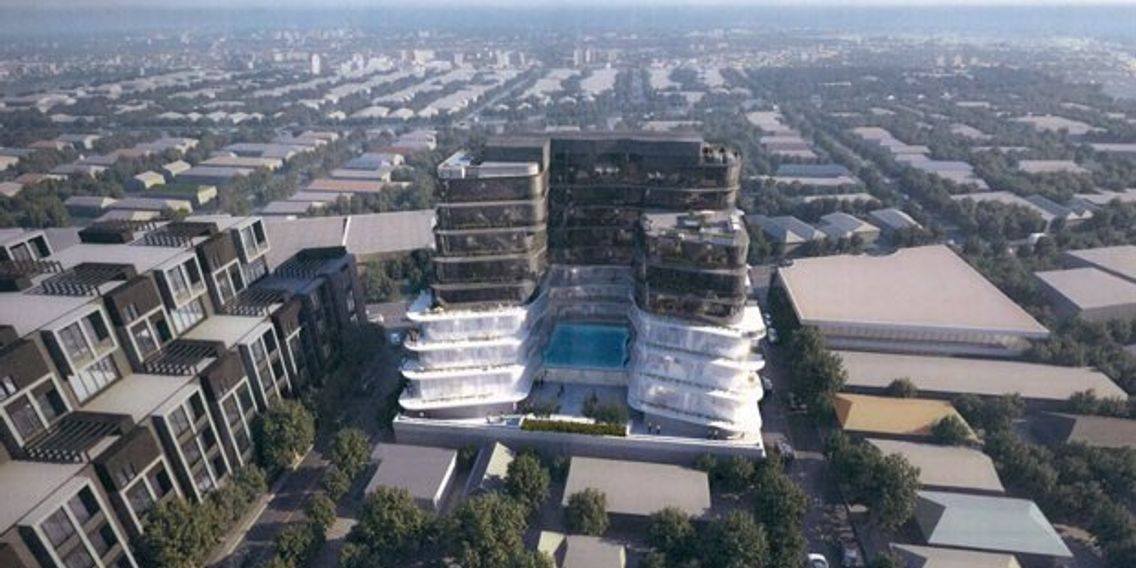 The Monster by Moonlight
** REFUSED By Council 21st Nov 2018 **
Developer is taking the City of Yarra to VCAT
Practice Day Hearing : 25th January 2019 at 10am
Compulsory Conference : 12th March 2019 at 2pm
Hearing : 29th April 2019 for five days at 10am
622-642 Nicholson Street North Fitzroy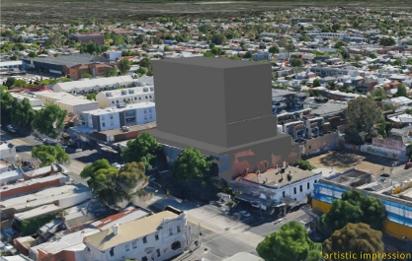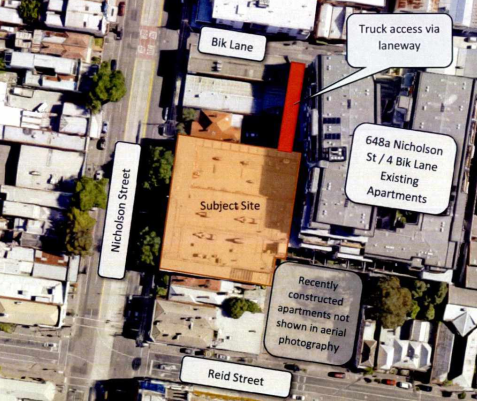 Council and residents will defend the refusal at VCAT
The ~42m, 10 commercial storeys high (equiv. roughly 14 residential storeys) proposal at 622-642 Nicholson St was unanimously refused by Yarra councillors at IDAC on 21st November, on a number of grounds.
Councillors. Stephen Jolly, Mike McEvoy and Mi-Lin Chen Yi Mei were presiding, with Councillor. Jolly in the chair steering the ship. Accustomed as he is to people waving placards, Councillor. Jolly sent both the applicant and the residents away with tailor-made pep-talks at the end.
As Steve said on the night, odds are this will go to VCAT - and it has.
There was a great resident turnout and lineup - well done to you all.
The grounds for refusal was basically that any benefits the proposal had to offer failed to justify its scale and impact on not just the neighbourhood but the neighbours. The site is only on the edge of a _neighbourhood_ activity centre - it's not a major activity centre or a strategic redevelopment site - hence guidance in the scheme is "generally no more than 5-6 storeys" unless there are compelling benefits to justify an exception.
Over 260 Objectors submitted
The proposed 42 metre high monster is beside two residential complexes, currently home to more than 150 people in North Fitzroy. These new residents have embraced living in a higher density community, in a precinct zoned as mixed use, as encouraged in both municipal and state policy.
Then an application like this comes along. A 10 storey commercial (14 storey residential) monolith with a late night bottle shop and supermarket, serviced by delivery and garbage trucks from 7am, 6 days a week. Quiet enjoyment of your home - gone. Safe access to your home - gone. Privacy - gone. Neighbourhood character - gone. Traffic on Nicholson Street - worse.
The residents support a Medical centre and commercial offices, provided the building fits the scale of the neighbourhood, and respects the amenity of the neighbours. The excessive height, bulk and the endless trucks thru a small shared lane way, expected for the supermarket + liquor business, are totally inconsistent with a good planning outcome for this site.
This proposed mixed use zone development, if approved by VCAT, will set a diabolical precedent for all commercial and residential properties near tram lines or major arterial roads, particularly away from Neighbourhood or Major Activity Centres.
There are other negative aspects to this development, like minimum Sustainability standards, Ned-Kelly bike racks, limited activation at ground level, another late night bottle shop, but these pale before the toxic amenity and neighbourhood character impact.
So far nothing this big and bad has been approved in the City of Yarra north of Alexandra Parade. The sooner there are controls in place good enough to convince developers, not to waste everyone's time and _start_ with something reasonable, the better.
Gasworks Decision Is In
Major Improvement on Original Proposal
10 Storey Maximum - 20% Affordable Housing
The Minister's decision on the Gasworks site is "in". Mr Richard Wynne has announced a positive Gasworks outcome for the community. It includes a 10 storey maximum height. 20% affordable/social housing, a new combined Year 11&12 campus for Collingwood College and Fitzroy High, and an indoor sports stadium with community rooms.
The Development Victoria Project page Updated to reflect Minister Richard Wynne's decision is here http://www.development.vic.gov.au/projects/fitzroy
Collingwood and Fitzroy combine classes to offer The full range of VCE/VCAL Year 11 & 12 curriculum, but this currently means students often travel to classes at both campuses, on the same day. Having all classes on the same campus means more time learning and less time travelling, as well as freeing up space at Fitzroy and Collingwood for more students.
The community should be proud that their efforts appear to have had a very significant effect.
5 Storey street wall maximum along Smith St, 6 along Queens Parade and George St with 10 storey street wall permitted only along Alexander Parade.
There are also provisions, in line with community concerns and expert advice, to provide for sight lines through the site, a more human-scale experience within the site, break-up of outline in more distant views, and so on.
Issues with car parking provision have been taken on board, bike parking is now 2 spaces. Dwelling, sustainability and housing diversity are now more explicit in the controls. Parking, water, waste are required to be planned in an integrated way across the whole site etc.
It's an example of people getting involved in an official process and getting a much more positive outcome than was originally floated. Props to the panel members for being fair and thorough, and to the decision-maker(s) for taking broader concerns into account.
One thing a bit "hmm" is the section on social and affordable housing. The panel recommended this be a minimum of 15% in the control - agreed to by Yarra and DV. However, in the gazetted control the phrasing is "up to 20%", which seems odd, so is possibly a drafting error.
You can click thru to the approved planning controls downloaded here.
Click thru to the state planning webpage with all the documents, including the GLSAC panel report.
Finally It Over !!
26 - 56 Queens Parade
Final VCAT Decision Published
The bottom line is that Gurner gets a permit to build at the maximum of 10 storeys stated in the DDO, but with a massing and footprint that's been vastly scaled back at each stage of the process.
The original plans were massive and bulky at 16 storeys and 476 apartments. The plans now stand at 10 storeys and 263 apartments (and if you read the tribunal's finding, are likely to reduce a little further). So, a bit over half the original size.
But there's more - heritage that would have been destroyed is now to be protected. Along the way the original architects were ditched and the whole thing redesigned. The apartments must now be more liveable. The residents will now have much better open space.
That couldn't have happened without the efforts of the same amazing community that also put up such a good showing at the Gasworks panel hearing. I'm in awe of you all, and no poor thanks of mine would ever be adequate.
Here is the link to the final decision made this July 2018 - nearly 2 years after the original plans were advertised.
This was a really long haul for us all. The VCAT members were extremely thorough for their part - including returning to site one last time to "fact-check". If you read the decision you'll see what I meant in my earlier post that calling this hearing was something of an "own goal" for the applicant.
Aside from a stellar community effort, Yarra Council, the councillors and the council officers really put in the big ones on this. Kudos to them.
For all of those who contributed just know that this case has had lasting effects beyond our area - other community groups with their own mountains to climb learn from each other's example, including ours.
You've certainly made a difference. Thanks again.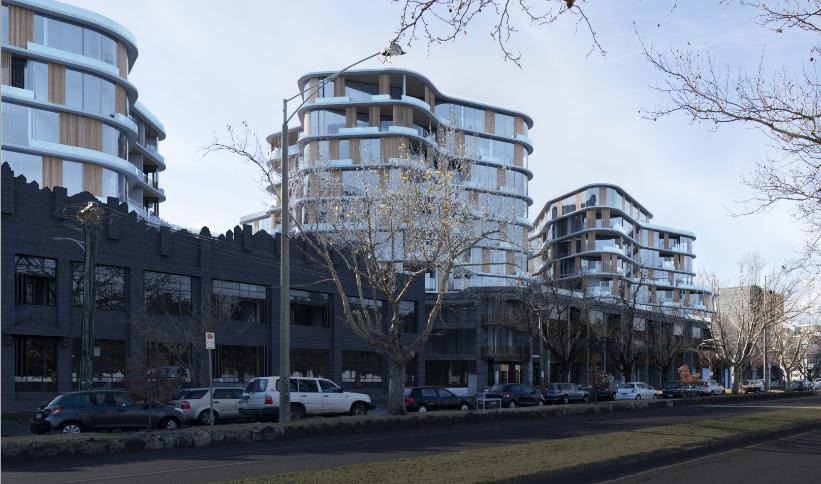 Community Town Hall Meeting
Well Done to the over 200 community members who attended and contributed so generously.
The meeting covered the Development Victoria proposal, the workshopped a bunch of excellent resolutions from the community.
These community resolutions formed the centrepiece of the Protect Fitzroy North submission and presentation to the Advisory Committee Public Hearing.
The former Fitzroy Gasworks is the largest development site in Fitzroy North/Clifton Hill, and represents the last opportunity to introduce major new public infrastructure to our community.

The Gasworks development, on its own, will increase the population of North Fitzroy by 14%, (Needs Analysis).
This is a once in a generation opportunity for the state government to deliver an exemplar in this community, after rejecting this high density horror.
City Of Yarra Officer for Gasworks : Michael.Ballock@yarracity.vic.gov.au
Click Thru to Community Commissioned Expert Report
Heaps More Information : Click thru to the PFN GASWORKS Page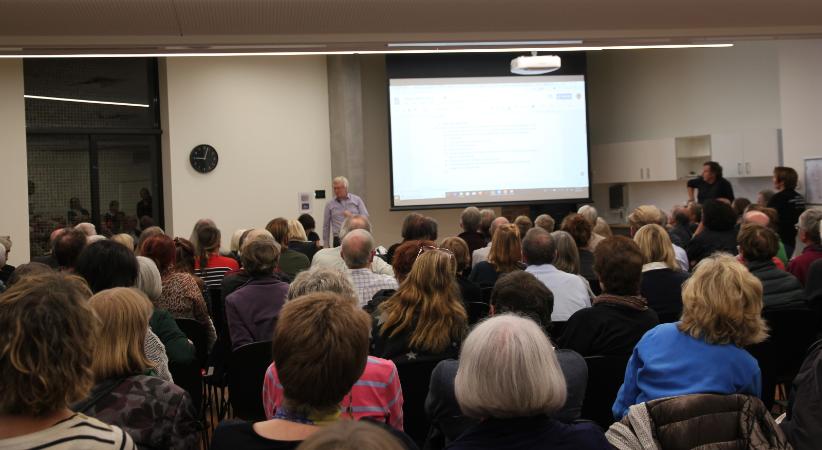 Piedemontes - Update
** Plans have been rumoured Withdrawn **
The hundreds of objections and the petition to protest the acquisition have been taken on board by the Piedemontes family.
Aquiring a laneway relied on by a number of people and businesses is difficult.
Rumour has it the Piedemontes Family is withdrawing.
This has not been confirmed officially so cannot be relied upon - apologies for previous post.
The resident's group front and centre on ensuring the community's views are respected are Fitzroy North Residents Action Group.
This group includes a strong presence of the residents who live in the streets around Piedemontes.
Facebook: https://www.facebook.com/piedimontes.going.too.far/
Transdev/PTV Toxic SprayBooth
Patsy and the No Toxins crew - Won !! - Transdev withdrew their plans for the spray booth on Scotchmer St. Many thanks to all who put in objections, displayed the poster, the councillors and council officers. It is a big relief for all the residents near Nicholson Village.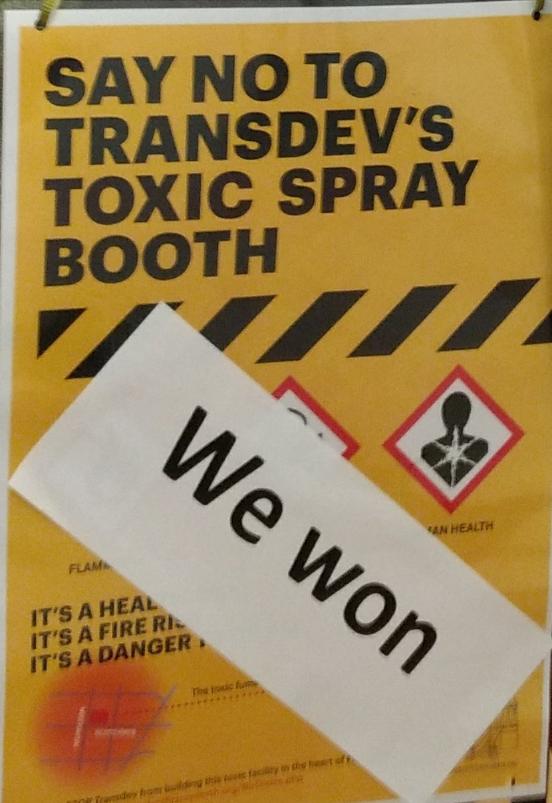 M41 Pipeline
Works Commencing March 5th - Information Sessions Scheduled
Email Update from Melbourne Water on the M41 Pipeline Page (link above)
Official Melbourne Water Page https://yoursay.melbournewater.com.au/m41
** Piedimontes Update **
520 Objections !!
Wow over 500 objections is a mighty statement on the proposed plans from the community.
Permit number: PLN17/068
Sat 25th - Ward Meeting - Level 2 - New Library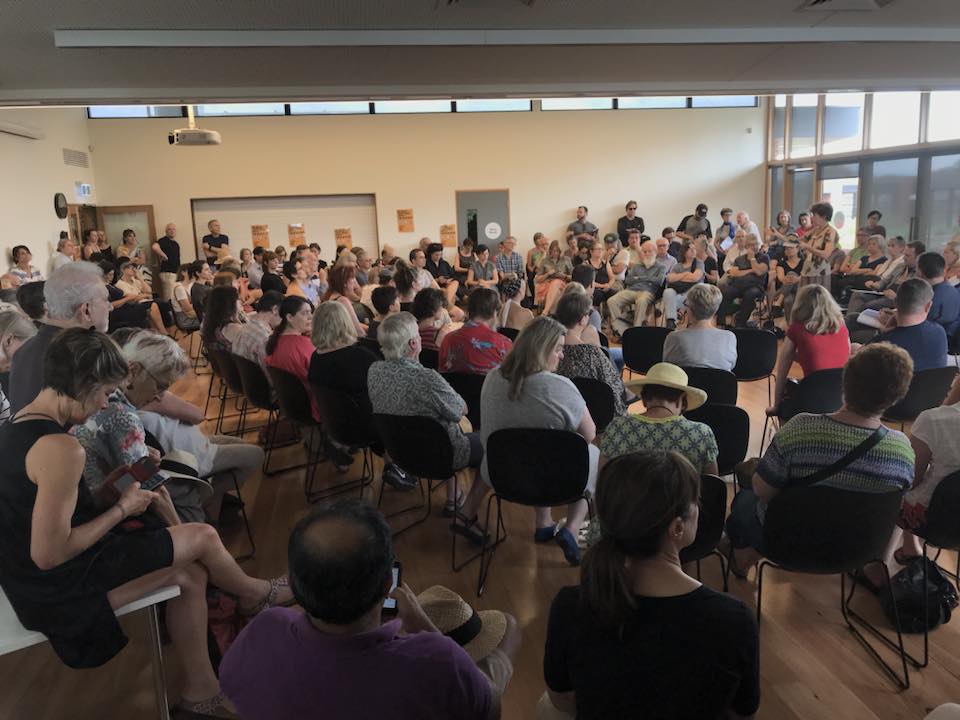 Fabulous turn out of residents at very short notice to the Ward Meeting at the new library.
The new library name was living up to its name as our ward Councillors explained Bargoonga Nganjin means 'Gather Everybody' in Woiwurrung, the language of the Wurundjeri people, as part of opening the meeting.
The hot topic was planning and the Piedimonte's proposal.
Sam and Joe Piedimonte spoke of their family's journey with the community for over 50 years
The community members expressed how much they loved shopping at their supermarket, and how devastated they would be to loose the local village shopping experience.
The residents, including many local architects, expressed very strong reservations about key aspects of the design, in detail.
Sam, Joe and the expert residents started a dialogue on how the expansion could be re-imagined to still keep what the community loves about Piedimontes and the North Fitzroy village, the neighbouring residents amenity is respected, while ensuring the supermarket business has a solid platform to thrive for many years to come.
Jackie Fristacky asked for a big thank-you to be passed on to all the community who attended, and an extra thank-you to all those who helped with the set up, then stayed and put the room back to is normal layout.
Extra big thank-you to Chris Sanders and Marion Marshall
Chris Sanders of Zen Folio photography http://christophersanders.zenfolio.com/, produced a range of brilliant pictures on a tight deadline to illustrate our case.
Marion Marshall, of Marion Marshall Studios http://www.marionmarshallstudios.com.au/, curated our wonderful book of images, referenced by the Protect Fitzroy North presenters.
Both Chris and Marion stepped up to produce just what was needed, to a really tight deadline, without any fuss at all, so thank-you for adding such a professional finish to our presentations.
The Panel acknowledged the strong community presence across the full 10 days of the completed hearing.
We are not expecting for a decision to be handed down before the end of October.
A Massive Thank-You

to all who attended.
OUR COUNCIL HAS PRESENTED BRILLIANTLY
Our Resident presentations all went VERY weLL
Submissions were presented to the panel on Parking, Traffic, Planning, Heritage, Amenity, Neighbourhood Character, Net Community Benefit and Urban Design.
Here is a small sample of the 23 page Submission prepared and presented by the Neighbourhood Character Think Tank
The lack of empathy of the development proposal for the existing or preferred neighbourhood character demonstrates a complete lack of understanding of, and a lack of empathy for, the existing community in North Fitzroy.
It is an outward-facing neighbourhood, with a genuine and strong sense of openness and community that has a long history of banding together.
The residents of North Fitzroy generally enjoy small private open spaces, but are afforded the luxury of large, accommodating and welcoming public open spaces and it is in those public open spaces that locals relax, walk their dogs or congregate with their friends in the neighbourhood and visitors from all over Melbourne.
North Fitzroy is a neighbourhood rich in human interaction that has a true spirit of place, where a diverse range of people come together to engage in all manner of activities.
The design of the development is inherently inwards looking.
In particular, the townhouses around parts of the boundary of the site open inwards rather than onto the street.
This is in sharp contrast to the neighbourhood more generally, where houses have small front yards and generally present an open face to others who live in and visit the area.
We query where the opportunities are for residents of this development to interact "by chance" with their community, in the context of a design that offers little in the way of interaction with the wider community.
Other than a small section of the Queens Parade edge of the development, close to the commercial premises, it is closed to all but those who live there, and will present a blank face to the broader community in which it sits.
When our community stANDS as one we Are mighty
New Plans - New Architect - Same Problem
** STILL TOO BIG ** Our Councillors agree **
Newsflash from IDAC - Yarra councillors unanimously to_reject_ the revised plans for 26-56 Queens Parade.
A Massive Thank-you to each and every one who made the treck to Richmond Town Hall.
It was a marathon sitting, and the developer was there to see the communities commitment in person.
Yarra council to stand shoulder to shoulder with residents at VCAT. It's worth noting and commending the amazing focus the Yarra councillors have given appropriate development of this precinct - a series of council actions and votes have occurred to get us to this point and at every single one the councillors have supported and worked hard for their community.
Thanks particularly to Councillors Misha Coleman, Danae Bosler and Daniel Nguyen for officiating at a particularly challenging IDAC meeting.
Councillors, council officers and residents alike all had the stresses of shortened timeframes to meet the VCAT schedule. On the upside, there is now sufficient time between now and VCAT for Yarra to prepare an effective case.
Community concern has been been expressed in the heartfelt efforts of over 470 objectors.
Over 98 paid up personally to stand before VCAT in support of retaining neighbourhood character and amenity.
The picture below is the South Elevation from the plans supplied to VCAT. A red line is added to highlight the outline of the whole building proposed, as only the front section of three of the towers has been drawn in with any detail.
The link to the VCAT Substituted Plans July 2017 are on the council website, link is below.
When our community stands as one we are Mighty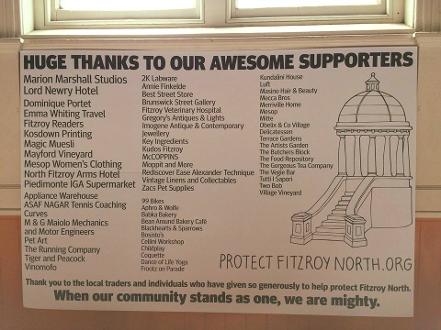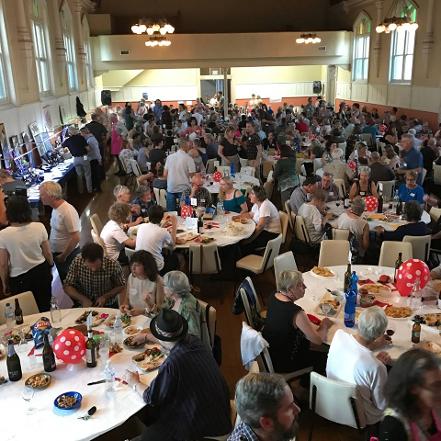 Why are we fighting this again ?
In 2003, an independent panel of top planning experts from Panels Victoria, thoroughly reviewed a development application on this site, and approved the 172 apartment, 5 storey solution submitted by the owner.
Now after 13 years of doing nothing the same owner is back, with a new developer, and a new totally inappropriate application.
Why do reasonable residents who have been through it once, have to go through it again?
Put yourself in our position, think of the hassle of the first time around, think why is it on again ?
Why, because the fight is worth having, because Fitzroy North is worth protecting.
Our Facebook group is Protect Fitzroy North, our Twitter feed is @ProtectFitzNth #TooBig2ignore
Our Contact Page is a click away in the Menu above, it sends your message to protectfizroynorth@gmail.com
Our Postal Address is Protect Fitzroy North Inc.
PO Box 1076, Fitzroy North, Vic 3068.
Videos of the speakers at our Public Meeting, including Professor Michael Buxton, are on our youtube page https://www.youtube.com/channel/UCCbwtdjdEHRAGIGM9C3omAw
A response to some ill informed comment in The Age, The Australian, The Australian Financial Review, and various developement industry media is in Response To Opinion under the In The News page in the menu above
FRIENDS AND SUPPORTERS
The Lord Newry Hotel 243 Brunswick Street, North Fitzroy http://www.lordnewryhotel.com.au/
North Fitzroy Arms Hotel 296 Rae St, Fitzroy North http://www.northfitzroyarms.com.au/